Lower Moore Creek
Lower Moore Creek (44 acres) (See also Upper Moore Creek section) 
General Description: The Lower Moore Creek section of the CNR encompasses a large area of grassland intersected by three drainage forks that meet in the old Cowell reservoir within the UCSC Arboretum. This section of the reserve is jointly managed by the CNR and the Arboretum. The Arboretum, located on the lower campus adjacent to Empire Grade, maintains an extensive botanical collection that contains representatives of nearly 300 plant families. It also supports various collections of rare plants of unusual scientific interest, including a large collection of plant families from the Southern Hemisphere. The Arboretum facilities are available for both research and teaching, and serve undergraduates, advanced scientists, and the public. The jointly managed area features the Arboretum's Ecoregions of California plantings, a collection of rare and representative native plants from a variety of California ecosystems, as well as the Amah Mutson Re-learning Garden, a center for local tribes people to educate others about and maintain traditional uses of native plants. 
Geology: Scattered outcroppings of limestone, marine terrace deposits, marble, and quartzite underlie this portion of the reserve (Stanley 1982). Soil types noted by Arkley (1963) include Felton loam, Pinto sandy loam, Pinto loam (claypan variant), and Hugo rocky loam. A small area of recent alluvium, only 1 acre of which occurs on campus, is located in the west fork of Lower Moore Creek (the drainage just east of Empire Grade).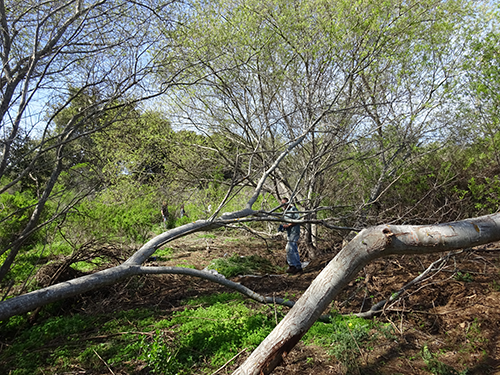 Plants: The grasslands in this area are typical of other campus grasslands. Non-native species are dominant, although some native species occur, including purple needlegrass (Stipa pulchra) and California oatgrass (Danthonia californica) (Buck 1983). Two significant plant species are found in this area: harvest brodiaea (Brodiaea elegans), which occurs here unusually close to the coast, and yellow mariposa lily (Calochortus luteus), which is uncommon in Santa Cruz County (Note—yellow mariposa lily has not been observed in this meadow in recent years—A. Jones, pers. obs.). The small drainage supports a stand of coastal scrub species, including coyote brush (Baccharis pilularis), poison oak (Toxicodendron diversilobum), and California blackberry (Rubus ursinus), as well as invasive plant species such as French broom (Genista monspessulana) and fennel (Foeniculum vulgare). The presence of invasive species provides both opportunities for restoration ecology education and land management/stewardship work. 
Animals: The grasslands of the reserve also form part of a hunting ground for raptors such as American kestrels, red-tailed hawks, and a pair of golden eagles. Other significant species of the grasslands include coyotes (Canis latrans), long-tailed weasels (Mustela frenata), ringneck snakes (Diadophis punctatus amabilis), and California kingsnakes (Lampropeltis californiae) (Luckenbach 1983). According to Deborah Letourneau, professor of entomology for Environmental Studies, grasslands are also important insect study areas (pers. comm. with K. Norris 1985). The federally threatened California red-legged frog (Rana draytonii) breeds in the Arboretum pond and likely overwinters and disperses into nearby grassland, upland, and riparian habitats. Camera traps have recorded a variety of mammal species, including mountain lions (Puma concolor), bobcats (Lynx rufus), striped skunks (Mephitis mephitis), coyotes, and black-tailed deer (Odocoilus hemionus ssp. columbianus), using trails crossing the riparian areas.
Management: Willows were planted in the drainages in the 1990s and check dams were built to create breeding habitat for California red-legged frogs (these have since grown-in and are no longer suitable breeding habitat). Grassland areas are periodically mowed by Arboretum personnel. Coyote brush was mowed along the western fork of the drainage during summer 2013 by Arboretum personnel in an effort to maintain grassland area. Several wooden check dams were placed within Lower Moore Creek's main/eastern stream channel during summer/fall 2013 as part of the campus's Stormwater Management Plan's Stormwater Improvement Projects (CITATION). These check dams are designed to slow the flow of stormwater through the drainage and reduce sediment transport.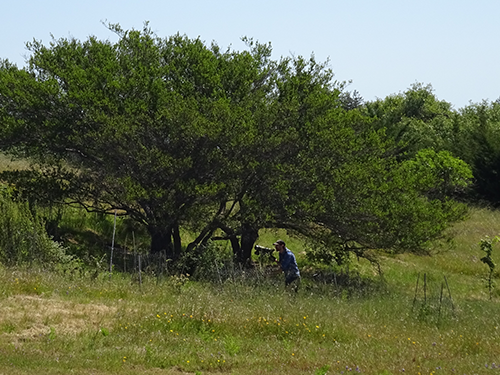 Opportunities for teaching, research, and stewardship: Classes can meet at the Arboretum's Horticulture 2 building (or in several outdoor locations) and explore the Lower Moore Creek reserve parcel's varied habitats. These areas are especially suitable for the study of reptiles, amphibians, birds, and mammals. Stewardship opportunities include invasive species management, riparian corridor restoration, and coastal prairie restoration.